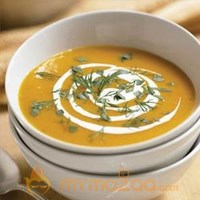 Carrot Soup Recipe
| | |
| --- | --- |
| Preparation Time | |
| Difficulty | Easy |
| Occasion | Dinner Party |
| Recipe Type | Soup |
| Cuisine | West India |
Ingredients
Ingredient
Quantity
Calories
Fat
Cholestrol
Carrot
250 gram
100
0.58
Potato
100 gram
69.3
0.1
Onion
50 gram
20
0.05
Black Pepper
0.125 teaspoon
1.5
Dried Basil
0.25 teaspoon
0.98
0.03
Butter
1 tablespoon
238.33
26.96
0.7
Salt
1.5 teaspoon
0
430.11
27.72
0.7
Preparation Method
1

Place the Water and Salt in a saucepan and bring to a bOil.

2

Add the Carrot, Potato and Onion, cover and simmer for 10-15 minutes or unTil the vegetables are tender.

3

Puree the vegetables with the Water in a blender or a food processor.

4

Return the puree to the saucepan, add Pepper and reheat the puree, uncovered.

5

Stir in the Butter just before serving.