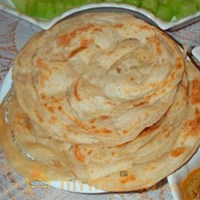 Parotta Recipe
| | |
| --- | --- |
| Preparation Time | |
| Difficulty | Easy |
| Occasion | Dinner Party, Bonefire Party, Birthday Party, General, Party |
| Recipe Type | Breakfast, Lunch, Dinner |
| Cuisine | South Indian |
Parotta, is a layered flat bread of Southern India. This is a variant of the North Indian Lacha Paratha. Parottas are usually available as street food and in restaurants across Kerala, Karnataka, Tamilnadu and the Middle East. It is also served in marriages, religious festivals and feasts. It is prepared with kneading maida, egg, Oil/Ghee and water. The dough is beaten thin layers and later forming a round bread using these thin layers.
Ingredients
Ingredient
Quantity
Calories
Fat
Cholestrol
All purpose flour
3 cup
1363.2
Egg
1 nos
77.5
5.3
0.21
Baking Powder
4 pinch
16
Baking Soda
2 pinch
0
Salt
1 as required
0
Ghee
2 teaspoon
165.4
17.92
4.66
Oil
5 teaspoon
403.2
56.65
0.05
2025.3
79.87
4.92
Preparation Method
1

To the maida flour add Baking Powder, Salt, Baking Powder, nicely beaten Egg, 2 tbsp Ghee and mix all.

2

Pour Water and mix soft as chapatti and roti maav, add 2 tbsp Oil and mix for nearly 20 mins. Pour 3 tbsp Oil, mix and keep aside for 2 hrs.

3

Then again beat and mix the maav in the slab for 10 mins.

4

Make big lime size balls total of 8-9 balls and keep.

5

Take a ball of maav and keep it in the slab and with the help of maida flour press it like chapatti as thin as you can.

6

Spread 1 teaspoon of Oil on it.

7

Make some flits(Like doing in sarees).It will become become a strip.

8

Hold the ends of the strip,beat sowly and stretch it gently.It will become long. (brush some Oil in your hand)

9

Hold one end as a centric and roll the other end.It will become like a wheel.This will give you the layers.

10

Do the same tAsafoetida powder for all other balls into small wheels.

11

Now brush a little Oil on top of each balls and keep aside.

12

Cooking Method

13

After 30 mins,heat the dosa pan.

14

On the other hand take one wheel.Gently press it by the rolling bin into a thick circle(Like which you have eaten in the hotel).

15

Spread 1/2 teaspoon Oil in the pan and place the cirular dough.when one side gets golden color, turn over and cook other side with 1/2 tsp Oil. After both sides get golden color take it from the pan.

16

THIS IS THE ONE!!!! Do the sametAsafoetida powder for the other wheels.

17

When you made 2 or 3,keep one on the other, pat the sides to seperate the layers.

18

Serve the parotas with kurma and raita.