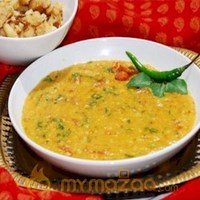 Tuvar Dal Recipe
| | |
| --- | --- |
| Preparation Time | |
| Difficulty | Moderately easy |
| Occasion | General, Party |
| Recipe Type | Breakfast, Lunch |
| Cuisine | West India |
Tuvar Dal or arhar dal is a split pigeon pea with subtle nutty flavor. It is one of the yellow dal. Toor dal is an ancient crop, believed to be cultivated for food since last 3000 years. Toor dal looks similar to chana dal and can be substituted with or for chana dal. In Indian grocery store, you can get toor dal with oil coating to increase its shelf life or one without oil coating. Tuvar Dal is also used to make a poula Andhra dish Kandi Podi, which is ground toor dal with with chana dal or mung dal along with spices such as dried red chili, hing, cumin, curry leaves, salt.Toor dal is also commonly known as rahar, toovar, togari, tuvaram paruppu, etc in local languages around Indian subcontinent. Also spelled, Tur dal.
Ingredients
Ingredient
Quantity
Calories
Fat
Cholestrol
Toor Dal
1 cup
8448
0
0
Tomato
50 gram
8.8
Oil
2 tablespoon
483.84
68
0.02
Mustard
1 teaspoon
6.72
0.4
Cumin
1 teaspoon
7.98
0.48
Water
4 cup
0
Green Chillies
2 nos
7.2
0
0
Ginger
1 tablespoon
33.03
Curry Leaves
1 tablespoon
1.28
Asafoetida
0.5 teaspoon
0.51
0.01
Turmeric Powder
0.5 teaspoon
1.43
Lemon Juice
1 tablespoon
7.12
0.07
Jaggery
1 tablespoon
30
Salt
1 as required
0
9035.91
68.96
0.02
Preparation Method
1

Soak the split toor dal in Water for about an hour.

2

Add Turmeric Powderr powder, Salt and a drop of Oil to the gram along with the Water in which it was soaked.

3

Now pressure cook it for around 45 minutes or for 4 whistles.

4

Divide the drumsticks into 2" pieces and keep aside.

5

Take out the dal from the cooker and beat it thoroughly Till it is blended properly.

6

Heat Oil in a pan Till it is hot and drop in the Mustard followed by the Cumin Seed and then Asafoetida.

7

Fry on medium heat for about 2 minutes Till the seeds splutter. Add this to the cooked toor dal.

8

Add the drumsticks and bring to a bOil.

9

Add the rest of the ingredients and simmer for about 10 minutes.

10

Serve hot with Rice.