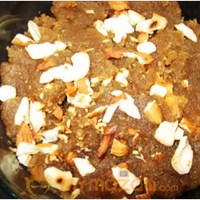 Wheat Halwa Recipe
| | |
| --- | --- |
| Preparation Time | |
| Difficulty | Easy |
| Occasion | Diwali , Birthday Party |
| Recipe Type | Sweets |
| Cuisine | South Indian |
Wheat Halwa is certainly a sweet that's fit for a king. Based on recipes from the royal kitchens of The Moghuls, Habshi Halwa blends together a vast number of ingredients, each more tempting than the last, to create a confection that's bursting with taste sensations. Milk, sprouted wheat, sugar, butter ghee, cashew nuts, almonds, pistachio nuts and cardamom each used in finely balanced proportions all go into our Habshi Halwa. It's a taste that has to be experience to be believed.
Ingredients
Ingredient
Quantity
Calories
Fat
Cholestrol
Wheat Flour
1 cup
450
249.9
Sugar
1.5 cup
1161
Cardamom
4 nos
1056
17.6
Ghee
4 tablespoon
992.4
107.52
27.96
Saffron Colour
1 gram
3659.4
375.02
27.96
Preparation Method
1

Wash and soak the wheat for 12 hours. Grind in a mixie adding 1 cup Water.

2

Strain through a seive to get a thick Milk. Grind again adding 1 more cup of Water and strain again.

3

You will be left out with only the husk in the seive.

4

Add enough Water to squeeze out all the Milk. Pour the Milk in to a thick bottomed pan, add Sugar and cook on a low flame.

5

Keep stirring continously.

6

Add the Ghee when the halwa starts thickening. Add the Cardamom Powder and the Saffron Colour. Mix well.

7

Cook Till you can roll the halwa into a ball with your fingers.

8

Add chopped dryfruits sauted in Ghee. Spread on a greased plate. allow to cool and cut into desired shape.