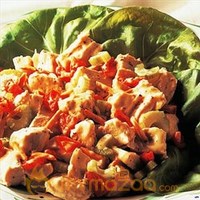 Almond Chicken Recipe
| | |
| --- | --- |
| Preparation Time | |
| Difficulty | Moderately easy |
| Occasion | Dinner Party, Chirstmas, Bonefire Party, Birthday Party, Picnic Recipes |
| Recipe Type | Lunch, Dinner |
| Cuisine | Chinese Cuisine |
Almond Chicken is another winner to add to that list. It was a pretty popular dish starting around a century ago, served alongside egg foo young and chop suey at Chinese restaurants in the U.S. From the 1940s through the 1960s, cookbooks aimed at American housewives printed recipes to allow them to recreate the popular dish at home
Ingredients
Ingredient
Quantity
Calories
Fat
Cholestrol
Boneless Chicken breasts
2 nos
2362.88
3.32
Soy Sauce
2 tablespoon
31.82
0.02
Rice Wine
1 tablespoon
25.05
Sugar
0.5 teaspoon
15.48
Corn Starch
1 teaspoon
11.55
Chicken Stock Cube
6 teaspoon
0.16
Ginger Paste
1.5 teaspoon
1.2
Garlic
1 clove
4.47
0.02
Egg
1 nos
77.5
5.3
0.21
Almond
1 cup
545.3
46.84
Peanut Oil
6 cup
11404.8
1296
14480.21
1351.5
0.21
Preparation Method
1

Pat Chicken dry with paper towels. Cut into strips 1/2" wide by 3" long.

2

Stir Soy Sauce, Rice Wine, Chicken stock, Sugar, Corn Starch, Ginger, and Garlic together.

3

Place Chicken in marinade, turning to coat. Marinate at least one hour, turning Chicken after half an hour.

4

Remove Chicken from marinade and drain on paper towels. Beat Egg slightly with 1/2 teaspoon Water.

5

One by one, dip Chicken pieces in Egg and roll in Almond to coat.

6

Let Almond coated pieces set 15 minutes. Heat Oil to 350. Fry Chicken pieces in batches one layer deep unTil crisp, golden brown. Be sure to let Oil come back up to 350 between batches.

7

Drain on paper towels and serve at once.