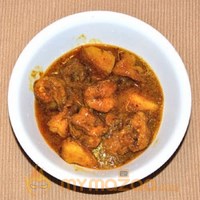 Macher Jhaal Recipe
| | |
| --- | --- |
| Preparation Time | |
| Difficulty | Moderately easy |
| Occasion | Dinner Party |
| Recipe Type | Dinner |
| Cuisine | South Indian |
Machher Jhol or Machha Jhola is a traditional Odia and Bengali spicy fish stew. It is in the form of a very spicy stew that is served with rice. Machher Jhol is liberally seasoned with turmeric, garlic, onions, and grated ginger. Potatoes are added to the stew as a thickening agent. Tomatoes are also added to impart the dish with a reddish color which is preferred by the people of Bengal.
Ingredients
Ingredient
Quantity
Calories
Fat
Cholestrol
Rui Fish
500 gram
650
10
3
Green Chillies
3 nos
10.8
Chili powder
1.5 teaspoon
2.66
53.04
Turmeric Powder
1 teaspoon
2.86
Onion
1 tablespoon
7.68
0.02
Mustard Oil
4 tablespoon
918.72
104.4
Butter
0.25 cup
406.9
46.03
1.19
Salt
1 as required
0
1999.62
213.49
4.19
Preparation Method
1

Apply Turmeric Powderr & Salt to the chopped Fish, fry slightly in Oil and keep aside.

2

Make a paste by mixing the remaining Turmeric Powderr powder and Chili powder with Water. Sauté the Onion in hot Mustard Oil unTil brown in colour.

3

Now put the Turmeric Powderr-chili paste and ½ cup of Water.

4

BOil for a few minutes, then add the Chilies and a tsp. of Mustard Oil.

5

Serve hot with Rice.