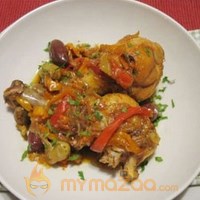 Braised Chicken With Peper Recipe
| | |
| --- | --- |
| Preparation Time | |
| Difficulty | Moderately easy |
| Occasion | Dinner Party, Chirstmas, Bonefire Party |
| Recipe Type | Lunch, Dinner, Curry |
| Cuisine | Chinese Cuisine |
Braised Chicken With Peper
Ingredients
Ingredient
Quantity
Calories
Fat
Cholestrol
Red Pepper
3 nos
109.95
0.72
Oil
1 tablespoon
241.92
34
Salt
1 teaspoon
0
Chicken
1 pound
748.43
15.88
3.86
Ginger
1 nos
76.59
Oil
2 tablespoon
483.84
68
Brown Sugar
1 teaspoon
33.44
Sherry
2 teaspoon
42.14
Corn Starch
1 teaspoon
11.55
Soy Sauce
2 teaspoon
10.6
0.02
1758.46
118.62
3.86
Preparation Method
1

Core the Peppers and cut into thin rings. Fry in the Oil and Salt or 1 minute.

2

Add 2 tablespoons Water, bring to the bOil, cover and simmer for 2 minutes. Drain.

3

Cut the Chicken into 1 inch pieces. Chop the Ginger finely, fry both Chicken and Ginger in Oil for 1 minute.

4

Add the Sugar and Sherry.

5

Mix the Corn Starch to a smooth paste with the Soy Sauce and add to the pan. Heat gently, stirring unTil slightly thickened.

6

Add the Peppers and cook for 1 minute.