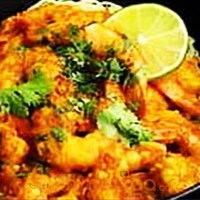 Prawns On Toast Recipe
| | |
| --- | --- |
| Preparation Time | |
| Difficulty | Moderately easy |
| Occasion | Dinner Party |
| Recipe Type | Dinner |
| Cuisine | Chinese Cuisine |
Prawn toast is a Chinese dim sum dish. It is made from small triangles of bread, brushed with egg and coated with minced shrimp and water chestnuts, then cooked by baking or deep frying. It is a common appetizer in Australian and American Chinese cuisine. A common variant in the United Kingdom and Australia is sesame prawn toast. This involves sprinkling sesame seeds before the baking or deep frying process.
Ingredients
Ingredient
Quantity
Calories
Fat
Cholestrol
Prawn
500 gram
2
Egg beaten
1 nos
201.24
13.67
Corn Flour
2 tablespoon
105.06
0.94
Bread
8 slice
551.04
7.2
Egg Yolk
1 nos
53.86
4.47
2.09
Ham
1 gram
0.75
0.08
0.01
Spring Onion
1 nos
1055.5
3750
Oil
1 tablespoon
241.92
34
0
2211.37
3810.36
2.1
Preparation Method
1

Shell and devein Prawn, leaving tails intact.

2

Gently flatten Prawn.

3

Combine Egg and Cornall all purpose flour in small bowl, add Prawn.

4

Mix well; coat Prawn completely.

5

Remove crusts from Bread, cut slices in half. Place 1 Prawn, cut-side-down on each piece of Bread, gently flatten Prawn on Bread with palm of hand.

6

Brush with left-over Cornall all purpose flour mixture. Chop Egg Yolk and Ham into 1cm cubes.

7

Push a cube of Egg Yolk onto Prawn bear tail. Place a cube of Ham in centre of each Prawn.

8

Place ¼ tsp finely chopped Shallot at the bottom of each Prawn; there should be Egg, Ham, and Shallot along the centre of each Prawn.

9

Gently ease toasts, 2 or 3 at a time, into hot Oil, deep-fry unTil Bread is golden and Prawn are cooked through; drain on absorbent paper.