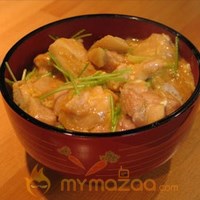 Oyako-donburi (Chicken And Egg Over Rice) Recipe
| | |
| --- | --- |
| Preparation Time | |
| Difficulty | Moderately easy |
| Occasion | Dinner Party |
| Recipe Type | Dinner |
| Cuisine | Japanese cuisine |
Oyako-don literally means parent-and-child Donburi (chicken and the egg, get it?) or a Japanese rice bowl in which chicken, egg, green onions and other ingredients are simmered together and served on top of a big bowl of steaming hot rice.
Ingredients
Ingredient
Quantity
Calories
Fat
Cholestrol
Rice
8 cup
5840
10.56
Egg
5 nos
387.5
26.5
1.05
Chicken
115 gram
189.75
4.03
0.98
Onion
2 nos
56
0.14
chicken stock
2.5 cup
30.6
Soy Sauce
6 tablespoon
95.46
0.06
Sugar
3 tablespoon
162.54
6761.85
41.29
2.03
Preparation Method
1

To prepare: BOil plain White Rice. Mix (do not beat) Egg in a bowl lightly with Chopsticks or fork and set aside.

2

Cut boned Chicken (with or without skin, as preferred) into 1/4-inch (7.5mm) pieces. The Chicken should be raw, but if the purpose of making the dish is to use leftovers, cooked Chicken is fine, as is thin-sliced raw or cooked Pork or beef. The flavor is best if you start with raw meat.

3

Wash and clean Onion. Cut diagonally into 1-inch (2.5cm) lengths. To cook:

4

Combine ingredients for sauce in a medium-sized saucepan. Bring to a gentle bOil over medium heat. Add Chicken and simmer, uncovered, for 5 minutes. Add Onion and simmer 1 minute longer. Correct seasoning if necessary.

5

Stir the Egg and pour gently in a steady stream around the Chicken in the simmering sauce. Let the Egg spread naturally.

6

Do not stir. Keep heat at medium high Till the Egg starts to bubble at the edges. At this point, stir once.

7

The Egg will have almost set but will sTill be a little runny. Keep in mind that the high temperature of the Rice over which the Egg will be placed will do the final cooking. Do not let the Egg cook hard.

8

To assemble and serve: Put portions of hot Rice, 1 1/2 to 2 cups, into individual donburi bowls, or use deep soup bowls. With a large spoon, scoop a portion of the Egg topping and sauce and place on Rice.

9

Sauce will seep down into Rice, but the dish will not be soupy. Serve immediately.