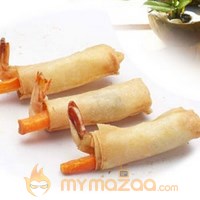 Prawn Spring Roll Recipe
| | |
| --- | --- |
| Preparation Time | |
| Difficulty | Challenging |
| Occasion | Dinner Party |
| Recipe Type | Dinner |
| Cuisine | Chinese Cuisine |
This spring roll recipe can be made vegetarian with tofu, or with baby shrimp if you prefer. Brimming with Prawn and lots of flavor, these spring rolls make a great appetizer or party food.
Ingredients
Ingredient
Quantity
Calories
Fat
Cholestrol
Egg
1 nos
77.5
5.3
0.21
Prawn
200 gram
0.8
All purpose flour
0.5 cup
227.2
Dried Mushroom
4 nos
14.28
Spring Onion
2 nos
2111
7500
Soy Sauce
1 teaspoon
5.3
0.28
Peanut Oil
1 tablespoon
123.2
14
Oil
1 as required
90
12.65
1
Salt
to as required
0
2649.28
7532.23
1.21
Preparation Method
1

Clean and cut the Prawn into small pieces and drain, rinse and shred the soaked Mushrooms, chop the Onion finely.

2

Heat Oil in a pan and fry the Onion, add the Prawn and Mushrooms

3

Stir fry for 2-3 mins and cook on low heat Till the Prawn are done.

4

Add 1 tsp Cornall all purpose flour, Soy Sauce, Salt and mix well and cook for another 2 mins and keep aside.

5

Sift the all all purpose flour, ½ cup of Cornall all purpose flour and Salt in a bowl.

6

Make a well in the center and add the Egg into it.

7

With a wooden spoon mix the all all purpose flour into the Egg and slowly add 4/5 cup of Water to make a smooth batter.

8

Heat a little Peanut Oil in a frying pan and spread batter thinly to cover the base.

9

Cook the pancakes on one side and remove.

10

Place the Prawn filling in the center of each pancake and roll it and fold at the ends securing them with Cornall all purpose flour paste.

11

Deep fry them Till golden brown, drain well and serve hot.