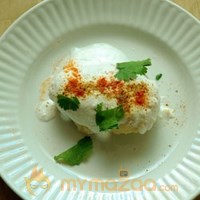 Dahi Vada Recipe
| | |
| --- | --- |
| Preparation Time | |
| Difficulty | Moderately easy |
| Occasion | Picnic Recipes |
| Recipe Type | Lunch |
| Cuisine | South Indian |
The hot deep fried vadas are first put in water and then transferred to thick beaten yogurt. For best results, the vadas are soaked for at least a couple of hours before serving. To add more flavor, they may be topped with coriander or mint leaves, chili powder, crushed black pepper, chaat masala, cumin, shredded coconut, green chilis or boondi. Sweeter curd is preferred in some places in India, especially in Maharashtra and Gujarat, although the garnishing remains the same.A combination of coriander and tamarind chutneys are often used as garnishments in addition to those mentioned above.
Ingredients
Ingredient
Quantity
Calories
Fat
Cholestrol
Urad Dal
1 cup
160
6
0.05
Moong Dal
2 tablespoon
143.44
Curd
3 cup
448.35
24.27
Cumin
2 tablespoon
47.88
2.9
Red Chili
3 nos
21.6
0.21
Coriander Leaves
2 tablespoon
0.36
Sugar
0.5 teaspoon
15.48
Oil
0.5 cup
1098
154.33
0
Salt
1 few
0
1935.11
187.71
0.05
Preparation Method
1

Soak both the dals overnight or 6-8 hours, grind it to smooth paste.

2

Take the Curd and beat it nicely with a spoon along with Salt and 1/4 teaspoon ofSugar.

3

Fry Cumin and the Red Chilies without Oil and grind it to powder, add this to the beaten Curdwith very little Water.

4

Now fry the vadas in Oil, and as soon as you take it out put the vadas in Warm Water for 5-10 second, after that take the vadas out and squeeze any excess Water with hand and putit in the Curd.

5

Garnish your Curd vada with Coriander Seedss leaves. If you like you can addMustard, Cumin, Curry Leaves and Asafoetida seasoning to this.

6

To make this Curd vada more appealing you can garnish little Tomato Ketchup anddate and Tamarind chutney.