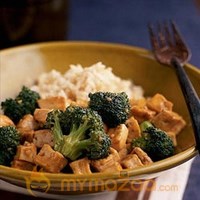 Tofu Stir Fry Recipe
| | |
| --- | --- |
| Preparation Time | |
| Difficulty | Easy |
| Occasion | Bonefire Party |
| Recipe Type | Appetizers |
| Cuisine | South Indian |
Tofu and Vegetable Stir-Fry with Ginger - a simple recipe for an easy Chinese-style vegetarian and vegan vegetable stir-fry with tofu in a light ginger sauce. Feel free to add in whatever vegetables you happen to have on hand, just about any kind of veggie will work for this quick and easy stir-fry recipe. You could also omit the tofu, or use seitan or tempeh instead.
Ingredients
Ingredient
Quantity
Calories
Fat
Cholestrol
Tofu
1 cup
176
10.58
Oil
1 tablespoon
241.92
34
0
Soy Sauce
1 tablespoon
15.91
0.01
Chili Sauce
1 teaspoon
6.6
440.43
44.59
0
Preparation Method
1

Drain liquid from Tofu package.

2

Cut into large pieces and press out excess liquid with a paper towel.

3

Cut Tofu into bite size cubes.

4

Heat Oil in a non-stick skillet.

5

Add Tofu and cook on high heat unTil all sides are light brown.

6

Sprinkle Soy Sauce and Chili Sauce and toss unTil Tofu is well coated.

7

Serve hot.