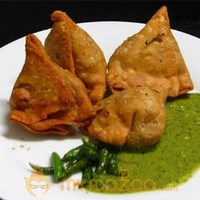 Samosa Recipe
| | |
| --- | --- |
| Preparation Time | |
| Difficulty | Moderately easy |
| Occasion | Dinner Party |
| Recipe Type | Snacks |
| Cuisine | South Indian |
samosa is a fried or baked pastry with a savory filling, such as spiced potatoes, onions, peas, lentils, ground lamb, ground beef or ground chicken. The size, shape and consistency may vary, but typically, they are distinctly triangular. Samosas are often accompanied by chutney.They are a popular appetizer or snack in South Asia, Southeast Asia, Central Asia and Southwest Asia, the Arabian Peninsula, the Mediterranean, the Horn of Africa, North Africa and South Africa.
Ingredients
Ingredient
Quantity
Calories
Fat
Cholestrol
Potato
3 cup
155.91
0.21
Onion
0.5 cup
32
0.08
Cauliflower
100 gram
25
0.1
Green Pea
0.5 cup
58
0.29
Ground Coriander
0.25 cup
7
Coriander Powder
2 teaspoon
11.56
0.1
Cumin Powder
1 teaspoon
12.6
0.6
Oil
3 tablespoon
725.76
102
0
1027.83
103.38
0
Preparation Method
1

Take some Oil in a pan. Fry the Onion to golden brown.

2

Put Cumin and Coriander Seedss powder and fry for another minute.

3

Add the bOiled Potato and green Green Peas. Add Salt and Chili powder according to taste. Stir for 10-15 minutes.

4

Stir in the Coriander Leaves seedss leaves and stir for another minute or so. Your filling is ready.

5

Now cut the all all purpose flour torTilla lengthwise, put the filling, roll it in the shape of a triangle and seal the edges with a all all purpose flour and Water paste. Your Samosa is ready.

6

Heat some Oil in a deep pan. Fry your Samosas to light golden brown and serve hot with Mint Chutney or any other Chutney.