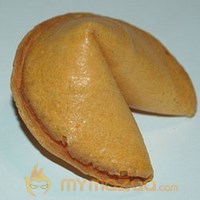 Fortune Cookies Recipe
| | |
| --- | --- |
| Preparation Time | |
| Difficulty | Easy |
| Occasion | Birthday Party |
| Recipe Type | Sweets |
| Cuisine | West India |
Fortune cookies are often served as a dessert in Chinese restaurants in the United States and some other countries, but are absent in China. The exact provenance of fortune cookies is unclear, though various immigrant groups in California claim to have popularized them in the early 20th century, basing their recipe on a traditional Japanese cracker. Fortune cookies have been summarized as being "introduced by the Japanese, popularized by the Chinese, but ultimately ... consumed by Americans.
Ingredients
Ingredient
Quantity
Calories
Fat
Cholestrol
All purpose flour
2.5 cup
1136
Egg
3 nos
232.5
15.9
0.63
Butter
6 teaspoon
476.64
53.94
1.38
Sugar
0.5 cup
387
Corn Starch
1 tablespoon
35
Almond Extract
1 teaspoon
23
2290.14
69.84
2.01
Preparation Method
1

spray a cookie sheet with cooking spray. Preheat oven to 350 F

2

combine all ingredients and whisk togather Spread 1-2Tbs drops of cookies to 3-5 inch rounds, several inches

3

Apart on sheet (depending on size of cookie desired)

4

Spread into circle with back of spoon, bake 6-8 mins or unTil edges are light brown.

5

Working quickly, remove a circle and place fortune (written in food safe inkon a 3"x1/2" strip of clean white paper) in it, fold in half and then fold edges up to form fortune cookie shape.