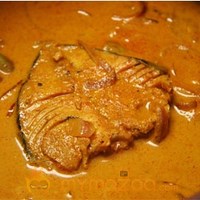 Kerala Fish Curry Recipe
| | |
| --- | --- |
| Preparation Time | |
| Difficulty | Easy |
| Occasion | General |
| Recipe Type | Curry |
| Cuisine | South Indian |
Kerala Fish Curries I make since it doesn't involve any roasting or grinding or shredding coconuts. some frozen Seer Fish (Ney Meen) and decided to make a quick curry. The frozen ones of course lack the flavor of the fresh Ney Meen which used to be a regular dish at our house, back in Kerala. This Meen Curry is lot more healthier than Kerala Fried Fish and I had it with Rotis instead of Rice.
Ingredients
Ingredient
Quantity
Calories
Fat
Cholestrol
Fish
500 gram
1030.5
61.5
312.5
Red Chili Powder
2 tablespoon
86.4
1.24
Turmeric Powder
0.5 teaspoon
1.43
Coriander Powder
2 tablespoon
34.68
0.32
Fenugreek Powder
0.5 teaspoon
6.49
0.11
Green Chillies
2 nos
7.2
0.78
Shallot
8 nos
5.6
Ginger
1 few
6.66
Curry Leaves
2 spring
12.84
Coconut Oil
2 tablespoon
459.9
51.8
Salt
1 as required
0
Coccum
1 few
0.36
1652.06
115.75
312.5
Preparation Method
1

Clean the Fish and cut into small pieces.

2

In a pan pour Coconut Oil. Add green Chilies, Ginger, Shallot and sauté nicely.

3

Now add Red Chili Powder, Turmeric Powderr powder, Coriander Seedss powder, Fenugreek Powder and sauté.

4

Add Salt, Water, Coccum and Curry Leaves as required. When the gravy bOils, add the Fish pieces.

5

When cooked, remove from fire.