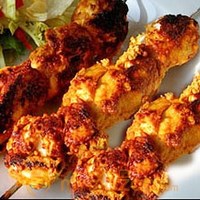 Chicken Tikka Recipe
| | |
| --- | --- |
| Preparation Time | |
| Difficulty | Moderately easy |
| Occasion | Dinner Party |
| Recipe Type | Dinner |
| Cuisine | South Indian |
Chicken Tikka dish popular in South Asia. It is popular in many countries all over the world. It is traditionally small pieces of boneless chicken baked using skewers in a clay-based oven called a tandoor after marinating in spices and yogurt. The word tikka means "bits" or "pieces". It is a chicken dish served in Punjabi cuisine. The Punjabi version of the dish, however, is grilled over red-hot coals, and does not always contain boneless pieces. The pieces are brushed with ghee (clarified butter) at intervals to increase its flavor, while being continuously fanned. It is typically eaten with green coriander and tamarind chutney served with onion rings and lemon, or used in preparing a chicken tikka masala.
Ingredients
Ingredient
Quantity
Calories
Fat
Cholestrol
Chicken
1 kilogram
1650
35
8.5
Curd
2 cup
298.9
16.18
Onion
1 cup
64
0.16
Garlic
4 clove
17.88
0.08
Ginger
0.5 nos
38.3
Papaya
3 teaspoon
6.54
0.03
Chilli powder
1 teaspoon
0.4
Garam Masala
1 teaspoon
13.3
Lemon Juice
2 tablespoon
14.24
0.14
Salt
1 as required
0
2103.56
51.59
8.5
Preparation Method
1

Clean the Chicken. Remove the bones and slice it into small pieces.

2

Grind Onion, Garlic, Ginger, and Papaya into smooth paste.

3

Mix it with Curd, Chili powder and Garam Masala.

4

Blend well to make the marinade. Add a few drops of red colour to the marinade with Salt and Lemon Juice.

5

Smear the Chicken pieces with the mixture and let them marinate for 8-10 hours.

6

Heat Ghee in a pan and add the marinated Chicken pieces, fry for 5-6 minutes, then pour the remaining marinade on it.

7

Cover the pan and cook on a low fire unTil Chicken pieces are tender and dry.

8

Serve hot.