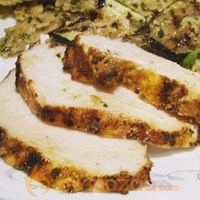 Crazy Chicken Marinade Grilled Chicken Recipe
| | |
| --- | --- |
| Preparation Time | |
| Difficulty | Moderately easy |
| Occasion | Dinner Party, Bonefire Party |
| Recipe Type | Lunch, Dinner |
| Cuisine | Mexican Cuisine |
Crazy Chicken Marinade Grilled Chicken. This grilled chicken features a marinade of lime juice.This grilled chicken recipe is the perfect compliment of sweet and savory. This recipe pairs well with grilled vegetables or a nice, light spinach salad.
Ingredients
Ingredient
Quantity
Calories
Fat
Cholestrol
Lemon Juice
5 teaspoon
Olive Oil
2 tablespoon
457.74
51.84
Chilli powder
2 tablespoon
10.6
212.16
Dried Sage
1 teaspoon
16.5
1.33
Dry Oregano Leaves
1 teaspoon
Ground cumin
1 teaspoon
Boneless Chicken Breast Halves
4 nos
148.52
1.8
633.36
267.13
0
Preparation Method
1

Whisk the Lemon Juice, Olive Oil, Chili powder, sage, oregano, and Cumin together in a small bowl. Arrange the Chicken Breasts in a shallow glass container; pour the Lemon Juice marinade over the Chicken.

2

Cover the container with plastic wrap; refrigerate 1 1/2 hours, turning the Chicken every 30 minutes.

3

Preheat an outdoor grill for medium heat and lightly Oil the grate.

4

Remove the Chicken to a platter and allow to come to room temperature.

5

Pour the marinade into a small saucepan and bring to a bOil over high heat. Reduce heat to medium-low and simmer for 10 minutes.

6

Basting with the marinade, grill the Chicken Breasts unTil no longer pink in the center and the juices run clear, 8 to 10 minutes per side.

7

An instant-read thermometer inserted into the center should read at least 165 degrees F (74 degrees C).