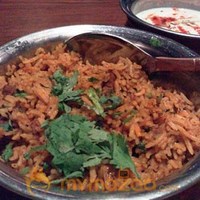 Gosht Biryani Recipe
| | |
| --- | --- |
| Preparation Time | |
| Difficulty | Challenging |
| Occasion | Dinner Party |
| Recipe Type | Dinner |
| Cuisine | South Indian |
Ingredients
Ingredient
Quantity
Calories
Fat
Cholestrol
Mutton
1 kilogram
1300
50
1
Basmati Rice
2 cup
432.18
129654
Garam Masala
1 teaspoon
6
Yogurt
2 cup
0
0
0
Ghee
5 teaspoon
413.5
44.8
11.65
Oil
5 teaspoon
403.2
56.65
0
Onion
2 cup
128
0.32
Green Chillies
2 nos
7.2
Ginger Paste
2 teaspoon
1.6
Garlic Paste
2 teaspoon
0.28
2.72
Tomato
2 cup
44
Salt
1 as required
0
Coriander Powder
2 teaspoon
11.56
0.1
Garam Masala
2 teaspoon
12
Turmeric Powder
1 teaspoon
2.86
Cumin Powder
1 teaspoon
12.6
0.6
Red Chili Powder
1 teaspoon
14.4
0.21
Ginger
1 few
6.66
Coriander Leaves
0.5 cup
0.75
Mint leaves
0.5 cup
0.5
Warm Milk
0.5 cup
51
0.99
0.49
Butter
50 gram
358.5
40.55
1.05
3206.79
129850.94
14.19
Preparation Method
1

Clean Mutton or lamb and cut into one and half inch sized pieces.

2

Pick, clean and wash Rice. Soak Rice in Water.

3

Chop green Chilieses. Peel Ginger and cut into julienne (thin strips).

4

Wash Coriander Seedss and mint leaf and roughly chop them separately.

5

Soak Saffron in Warm Milk and keep aside.

6

Marinade meat pieces with Yogurt, Salt, Turmeric Powderr powder and one tablespoon each of Ginger and Garlic Pastes. Marinade for about four hours in a cool place.

7

Cooked rice in Salted Boiling Water along with Garam Masala Till Rice is almost cooked. Strain and keep the Rice warm.

8

Heat Ghee or Oil in a thick-bottomed pan or pressure cooker. Add sliced Onion and chopped green Chilieses. Cook Till Onion is light golden brown. Make sure to stir continuously.

9

Add remaining Ginger and Garlic Pastes and mix well. Add marinated meat and cook on high flame for seven to eight minutes. Now, add Coriander Seedss powder, Cumin Powder and Red Chili Powder. Mix thoroughly.

10

Stir in three cups of Water, bring it to a bOil, reduce heat and cook covered Till meat pieces are almost cooked. Add chopped Tomatos, Salt, one teaspoon Garam Masala and chopped fresh Coriander Seedss leaves. Cook for fifteen minutes on medium heat, stirring occasionally.

11

In case you are cooking meat in the pressure cooker, add chopped Tomatos, Salt, Garam Masala, two cups of Water and chopped fresh Coriander Seedss leaves after adding dry spices. Pressure cook Till meat pieces are almost cooked. It normally takes two or three whistles to cook the meat.

12

Ensure that the cooked meat does not have too runny a gravy.

13

If that is the case, cook on high flame to reduce Water content.

14

Arrange half the quantity of cooked meat in an oven proof dish and spread half the quantity of Cooked rice on top of the meat. Sprinkle a little Garam Masala, half amount each of Ginger julienne, Saffron dissolved in Warm Milk and mint leaf.

15

Dot the Rice with half the quantity of Butter. Place a layer of remaining meat on top of the Rice, followed by Cooked rice and repeat the earlier process with the remaining quantities of Ginger julienne, Saffron Milk, Garam Masala, mint leaf and Butter.

16

Cover it with aluminum fOil and cook in a pre-heated oven for fifteen to twenty minutes.

17

Serve garnished with fried sliced Onion and mixed vegetable raita.