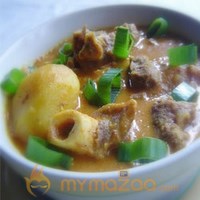 Mutton Korma Recipe
| | |
| --- | --- |
| Preparation Time | |
| Difficulty | Moderately easy |
| Occasion | General |
| Recipe Type | Lunch, Dinner |
| Cuisine | South Indian |
Mutton Korma are typically made by marinating the main ingredient in yogurt and spices like ginger and garlic. It is then cooked in its own juices and a gravy made of onions, lots of tomatoes, green chillies and whole spices like cinnamon, cardamom, cloves, coriander, cumin, etc. Kormas can range from mild to medium hot and taste nice with breads like Chapatis (flatbread), Parathas (pan-fried flatbread) or Naans (leavened flatbread made baked in a tandoor or oven). You can also make this dish with mutton or goat meat.
Ingredients
Ingredient
Quantity
Calories
Fat
Cholestrol
Mutton
0.5 kilogram
650
25
0.5
Cumin Seed
0.5 tablespoon
11.4
0.63
Onion
1 cup
64
0.16
Poppy Seed
0.5 cup
196.1
16.28
Coconut
0.5 cup
140
13.4
Ginger
1 tablespoon
33.03
Garlic
1 tablespoon
24.32
0.08
Coriander Powder
1 tablespoon
17.34
0.16
Turmeric Powder
0.5 teaspoon
1.43
Chilli powder
0.5 teaspoon
0.2
Bay Leaf
2 nos
3.34
Clove
8 nos
13.2
0.8
Cinnamon
2 nos
52
Oil
4 tablespoon
967.68
136
0
Salt
1 as required
540
2714.04
192.51
0.5
Preparation Method
1

Dry roast the Clove, Cardamom, Nutmeg powder, Cumin and Cinnamon Stick and then grind to a fine paste.

2

In a saucepan heat some Oil and Bay Leaf and Onion.

3

Once the Onion browns add the Ginger paste and Garlic Paste.

4

Add in the boneless Mutton and mix it thoroughly.

5

Mix the ground masala paste with the meat.

6

Add some Turmeric Powderr powder, Red Chili Powder.

7

Pour some Water with it add in some Salt allow to bOil.

8

Once the Mutton is tender add in the Poppy Seed paste along with the Coconut paste along and roasted Coriander Seedss powder.

9

Allow it to bOil further for another 10 mins.

10

Serve hot-garnished with Coconut paste.