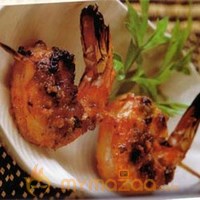 Grilled Prawn Recipe
| | |
| --- | --- |
| Preparation Time | |
| Difficulty | Moderately easy |
| Occasion | Chirstmas |
| Recipe Type | Dinner |
| Cuisine | East Indian |
Grilled Prawn are delicious when grilled. Try this great grilled prawn recipe with a tasty dip to accompany it. See "Cooking with Prawns" for great tips for preparing and cooking with prawns.
Ingredients
Ingredient
Quantity
Calories
Fat
Cholestrol
Prawn
18 nos
0.36
Lemon Juice
4 tablespoon
116
Salt
1 teaspoon
0
Chilli powder
1 teaspoon
0.4
Brown Sugar
1.5 teaspoon
50.16
Oil
3 tablespoon
725.76
102
Garlic
1 teaspoon
8.11
0.03
Coriander Leaves
2 tablespoon
34.68
0.32
Green Chillies
1 nos
3.6
Tomato
50 gram
8.8
Onion
50 gram
20
0.05
967.87
102.4
0
Preparation Method
1

Peel the Prawn and rinse them gently under cold Water. Pat dry.

2

Make a slit at the back of each Prawn and remove the black vein. Open each Prawn out into a Butterfly shape.

3

Mix the remaining ingredients, except chili, Tomato, Onion and Lemon wedges, in a bowl. Stir in the Prawn and marinate for 1 hour.

4

Preheat the grill to the maximum setting. Place the green chili, Tomato slices and Onion Rings in a flame proof dish. Add the Prawn mixture.

5

Grill for 10-15 minutes, basting several times with a brush dipped in Oil.

6

Serve hot.