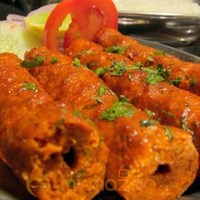 Seekh Kebab Recipe
| | |
| --- | --- |
| Preparation Time | |
| Difficulty | Moderately easy |
| Occasion | General |
| Recipe Type | Dinner |
| Cuisine | South Indian |
Seekh Kebab variants from around the world. Kebabs are a wide variety of skewered meals found worldwide that originated in the Middle East, and later were adopted in the Balkans, the Caucasus, other parts of Europe, as well as Central and South Asia. In English, kebab with no qualification generally refers more specifically to shish kebab cooked on a skewer.In the Middle East, however, kebab refers to meat that is cooked over or next to flames; large or small cuts of meat, or even ground meat; it may be served on plates, in sandwiches, or in bowls.
Ingredients
Ingredient
Quantity
Calories
Fat
Cholestrol
Mutton
450 gram
585
22.5
0.45
Onion
100 gram
40
0.1
Garlic
5 clove
22.35
0.1
Ginger
1 few
13.32
Green Chillies
2 nos
7.2
Coriander Leaves
1 few
3.75
Cardamom
1 tablespoon
18
0.3
Chili powder
0.5 tablespoon
2.65
53.04
Garam Masala
0.5 tablespoon
3
Cumin Seed
0.5 tablespoon
11.4
0.63
706.67
76.67
0.45
Preparation Method
1

Put all the mince lamb in a large bowl and add Onion, Garlic, Ginger, Chilies and Coriander Seedss. Then add whole of the ground masala and mix thoroughly with either your hand or a wooden spoon .

2

Take a large hand-full and make into a long kebab using the handle of a wooden spoon.

3

Put fOil on to your grill and put your kebabs under a hot grill. Cook on all sides unTil brown.

4

Serve on a bed of Lettuce. Garnish with Tomatos, Onion Rings, Chilies and Coriander Seedss.