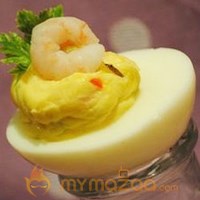 Shrimp Deviled Eggs Recipe
| | |
| --- | --- |
| Preparation Time | |
| Difficulty | Easy |
| Occasion | Chirstmas, Bonefire Party |
| Recipe Type | Breakfast, Dinner |
| Cuisine | Chinese Cuisine |
Deviled eggs are stuffed with a creamy shrimp and green onion filling for a fresh appetizer or snack.Deviled Eggs. Shrimp and bacon elevate these deviled eggs from familiar to fantastic. Shrimp make a delicious and dramatic garnish for stuffed eggs.
Ingredients
Ingredient
Quantity
Calories
Fat
Cholestrol
Egg
12 nos
930
63.6
2.52
Butter
2 teaspoon
158.88
17.98
0.46
Shrimp
1 cup
1328
0
0
Onion
1 nos
28
0.07
Garlic Powder
2 teaspoon
2.98
0.01
Mayonnaise
0.5 cup
379.5
41.8
0.17
Mustard
0.5 teaspoon
3.36
0.2
Sweet Pickle Relish
0.25 cup
105.97
0.48
Hot Pepper Sauce
1 teaspoon
18
Parsley
1 tablespoon
2.59
0.06
2957.28
124.2
3.15
Preparation Method
1

Place the Egg into a saucepan in a single layer and fill with Water to cover the Egg by 1 inch.

2

Cover the saucepan and bring the Water to a bOil over high heat.

3

Remove from the heat and let the Egg stand in the Hot Water for 15 minutes. Drain.

4

Cool the Egg under cold running Water. Peel once cold.

5

Halve the Egg lengthwise and scoop the yolks into a bowl.

6

Gently mash the yolks with a fork.

7

Melt Butter in a skillet over medium heat; cook and stir the shrimp, Green Onion, and Garlic Powder in the melted Butter unTil, about 4 minutes.

8

Transfer the shrimp to a cutting board and mince.

9

Stir 3/4 cup of the minced shrimp and any remaining liquid from the skillet into the Egg Yolk; reserve remaining shrimp for garnish.

10

Add the Mayonnaise, Mustard, pickle relish, and Hot Sauce; mix well.

11

Scoop the mixture into a resealable plastic bag, seal the bag, and snip a Corner off the bag with scissors to make a piping bag.

12

Gently squeeze about 1 1/2 tablespoon of filling into each Egg white half.

13

Garnish each deviled Egg with a few pieces of the reserved chopped shrimp and a pinch of the chopped Parsley; chill for at least 30 minutes in refrigerator before serving.