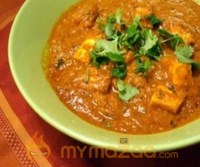 Paneer Butter Masala Recipe
| | |
| --- | --- |
| Preparation Time | |
| Difficulty | Easy |
| Occasion | Dinner Party, Bonefire Party, General, Party |
| Recipe Type | Breakfast, Curry |
| Cuisine | South Indian |
paneer butter masala is one of the most famous paneer dish served in almost all indian restaurants. this paneer butter masala recipe is easy and quick to make. within minutes you will have a restaurant style paneer butter masala ready. this post was in the drafts from some time along with a few paneer posts. this recipe of paneer butter masala is also similar to the way i would make butter chicken many years back. for the first time i had learnt how to make butter chicken during my home science days. later i used to use the same recipe for making butter paneer. some adaptations & improvisations have happened throughout the years.
Ingredients
Ingredient
Quantity
Calories
Fat
Cholestrol
Water
2 cup
0
Milk
1 cup
101.99
1.98
0.98
Tomato
4 nos
59.84
Onion
2 nos
56
0.14
Butter
1 teaspoon
79.44
8.99
0.23
Cinnamon Stick
5 nos
68.05
2
Clove
5 nos
8.25
0.5
Bay Leaf
3 nos
5.01
Cardamom
4 nos
1056
17.6
Garlic
0.5 tablespoon
12.16
0.04
Ginger Paste
0.5 kilogram
400
Sugar
1 teaspoon
30.96
Paneer
1 cup
530.64
43.56
1.32
Fenugreek Leaves Puree
1 teaspoon
0.18
0.04
Salt
1 as required
0
Coriander Leaves
1 few
0.75
2409.27
74.85
2.53
Preparation Method
1

Heat 1/2tbsp of Butter in a heavy bottom pan.

2

Add Cinnamon, Clove, bayleaves, Cardamom, fry for a while and grind to a powder.

3

Fry Onion, Ginger Garlic paste to a golden brown and keep aside.

4

Fry chopped Tomatos for 2 min and grind along with Onion, Ginger Garlic paste.

5

Now heat some Oil and fry the Onion and Tomato paste and all the dry powders.

6

Allow to cook for 3 min.

7

Now add 2 cups of Water and cook the gravy on low flame for 8 min.

8

Cut the Paneer into small cubes and fry them to a golden brown.

9

Now add Milk to the gravy.

10

Add the rest of the Butter, Fenugreek Seed and Paneer.

11

Add Salt as per taste.

12

Cook Till the Paneer is soft.

13

Garnish with chopped Coriander Seedss leaves.

14

Serve hot with roti, poori, Chapathi or biryani.