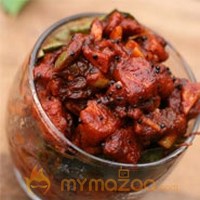 Chicken Pickle Recipe
| | |
| --- | --- |
| Preparation Time | |
| Difficulty | Moderately easy |
| Occasion | General |
| Recipe Type | Curry |
| Cuisine | South Indian |
Chicken Pickle Made with all the same spices that go into a pickle, this delicious dish goes well with chapatis (Indian flatbread), parathas (fried Indian flatbread) or naans (flatbread made in a tandoor or oven).
Ingredients
Ingredient
Quantity
Calories
Fat
Cholestrol
Vinegar
200 milliliter
40
Chicken
1 kilogram
1650
35
8.5
Salt
1 as required
0
Red Chili Powder
200 gram
720
10.4
Ginger Garlic Paste
2 teaspoon
0.44
Mustard Powder
2 teaspoon
6.08
Fenugreek Powder
1 teaspoon
12.97
0.22
Turmeric Powder
3 teaspoon
8.58
Oil
500 milliliter
4500
632.5
0.01
6938.07
678.12
8.51
Preparation Method
1

Wash Chicken and cut into small pieces.

2

Recommended to dry it by spreading it on a flat plate or can also microwave for 1 minute.

3

Mix the Vinegar and Ginger Garlic paste.

4

Heat 200 ml Oil and add Chicken pieces Cook on a low flame.Add Turmeric Powderr powder. Do not put lid.

5

Cook Till the Chicken pieces are well cooked and soft. Add Remaining Oil. Also add Red Chili Powder and Salt and allow to cool.

6

Then add Fenugreek Powder and Mustard powder and Salt.

7

Store it in cool place. Can be preserved for 6 months.

8

Always use a dry spoon. Takes good with Rice , roti or Bread.