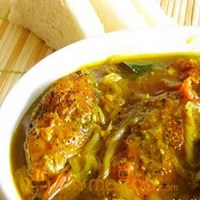 Fish Molee Recipe
| | |
| --- | --- |
| Preparation Time | |
| Difficulty | Moderately easy |
| Occasion | General |
| Recipe Type | Curry, Lunch |
| Cuisine | South Indian |
Fish moolie or fish molee (meen molee) is a spicy fish and coconut dish of possible Portuguese and/or Kerala origin. It is common in India and Malaysia. During the times of the British Empire is was spread into other places of South-East Asia, such as Singapore.
Ingredients
Ingredient
Quantity
Calories
Fat
Cholestrol
Fish
500 gram
1030.5
61.5
312.5
Onion
2 nos
56
0.14
Tomato
3 nos
44.88
Green Chillies
4 nos
14.4
1.56
Ginger Paste
1 teaspoon
0.8
Garlic
4 clove
17.88
0.08
Turmeric Powder
0.25 teaspoon
0.72
Red Chili
2 nos
14.4
0.14
Coconut Grated
2 cup
885.68
9.6
Vinegar
1 tablespoon
3
Cashew Nut
10 nos
165.3
13.2
Salt
1 as required
0
Oil
1 as required
90
12.65
0
2323.56
98.87
312.5
Preparation Method
1

Cut Fish into thick slices, wash and keep aside.

2

Cut Onion into fairly thick rounds, chop Ginger fine and slit green Chilieses.

3

Extract 1/2 cup of first Milk from Coconut and 2-1/2 cups of second Milk. Keep aside.

4

Chop Tomatos small, and keep 1/2 cup separately.

5

De-seed Red Chilies and grind Till smooth along with Garlic and Turmeric Powderr.

6

Grind Cashew Nut nuts separately Till smooth. Heat Oil and put in the Onion rounds and Ginger. Sauté Till Onion are transparent, but do not let them brown.

7

Add the green Chilieses and sauté for a minute more. Then add the Tomatos and the ground ingredients and Salt.

8

Sauté Till the Tomatos begin to turn pulpy. Pour in the second Coconut Milk and mix in the ground Cashew Nut nuts and Vinegar.

9

Stir Till gravy is well blended, check for Salt and gently drop in the Fish pieces.

10

Cover and cook over low flame Till Fish is done and gravy is thick.

11

Add a little more Water if gravy is too thick.

12

Drop in the reserved Tomato pieces and cook for 2 minutes.

13

Gradually add the first Milk and swirl the dish around Till it is well mixed.

14

Keep for just a minute longer on the fire and remove.

15

Transfer to a serving dish and garnish with a single sprig of mint.

16

Serve with plain Rice or thickly sliced fresh Bread.