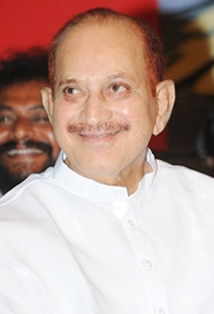 Alias
Siva Rama Krishna Ghattamaneni, Super Star, Nata Shekhar
Age
75 years
Height
5'8"
Occupation
Actor, Director, Producer
Language Worked in
Telugu, Tamil
Spouse

Vijaya Nirmala

Children

Ramesh Babu

,

Padmavath

,

Manjula

,

Mahesh Babu

,

Priyadarsini

Birth Place
Burripalem village, Tenali mandal, Guntur District, Andhra Pradesh
Eye Color
Black
Hair Color
Black
Religion
Hinduism
Education
B.S.C
Parents

Veeraraghavayya Chowdarary

,

Nagaratnamma

Brothers

Hanumantha Rao

,

G. Adi Seshagiri Rao

Sisters

Alivelu

,

Mangamma

,

Lakshmi

City
Hyderabad
Siva Rama Krishna Ghattamaneni (Telugu: ఘట్టమనేని శివరామ కృష్ణ) popularly known as Krishna, is an In
Krishna bounced back with his lavishly made home production Paadi Pantalu in 1976. The film, which dealt with several contemporary agrarian issues, was a runaway hit at the box-office. His performance in Raja Rajeswari Coffee Vilas Club - his second film under the Vijaya banner - was also successful. A third film produced by Krishna in that year was the moderately successful Rama Rajyamloo Raktha Paasam, for which he had to change the film's title and supply new publicity material overnight to all regions when censor officials refused otherwise to certify it. The officials said that original title - Rama Rajyamloo Raktha Paatham - was too provocative and a dig on the prevailing socio-political unrest.
Aside from his production work, and his acting in those self-produced films, he also acted in Kolleti Kapuram, Bhalee Dongalu and Devudee Gelichaadu during 1976. While Kolleti Kapuram was critically acclaimed for its thought-provoking dialogues and for capturing the serenity of Kolleru Lake in West Godavari district, Bhalee Dongalu - a re-make of the Hindi film Chor Machaayee Shoor - hit the bull's eye. Devudee Gelichaadu did not.
It was in 1976 that Krishna also announced that he was to produce Kurukshethram. This surprised N. T. Rama Rao, who also wanted to make a movie, called Daana Veera Soora Karna, based on the epic. The relationship between the two men was strained further when Krishna expressed his inability to drop his project and both started producing their films at frenetic pace. While Daana Veera Soora Karna was made with a limited budget and featured Rama Rao in all the key roles, Kurukshethram was made on a larger canvass, with a huge cast. Daana Veera Soora Karna won the ratings battle when the films were released in 1977, but Krishna's good run at the box-office continued with Saavaasagallu and the actor further penetrated into the urban mass segment with the super-hit film Dongalaku Donga.
Krishna's career reached greater heights between the years 1978 and 1986. During this period, Krishna acted in several hit movies, increased his fan-following manifold, maintained an edge over his junior rivals and made his seniors work for their money. More importantly, Krishna's stature also increased a lot due his philanthropy. In 1978, Krishna acted in hit films like Anna Dammula Sawaal, Kumara Raja and Agent Gopi and other commercially successful films like Indradanassu and Allari Bulloodu. The craze for him was so great that some of his flop films like Mugguroo Mugguree created records before petering out at the box-office. Six of his films fared very well in 1979. While Viyyalavaari Kayyaalu, Mandeegundelu, Hema-Heemeelu and Kottha Alludu set the cash registers ringing, Burripalem Bulloodu was another commercially successful film in Krishna's repertoire. Krishna and Sridevi became a hit-pair in 1980 and the two acted together in Gharana Donga, Maama Allulla Sawaal, Chuttaalunnaaru Jagrattha, and Ram Robert Rahim. Krishna also scored big against all his competitors when his Ooriki Monagaadu became the biggest hit among all films released during Sankranthi in 1981. This film is a watershed event in his life as it increased his craze and fan following in several remote areas too. Krishna was also the most consistent hero in 1981 as almost all his films performed well at the box-office. 1982 was another eventful year in his life and he started it with the super-hit film Bangaaru Bhoomi, which was an improvisation of his Paadipantalu. Towards the end of the year, Krishna became the fastest to complete 200 films in a lead role. He also became a studio owner and produced Eeenaadu as it's maiden venture. This film was another feather in his cap and the satirical film acted as a catalyst in bringing a regime change in AP. A string of super successful films like Mundhadugu, Kiraayi Kotigaadu, Adavi Simhaalu, Sakthi and Prajaarajyam catapulted him to the top position in 1983. Krishna's reign at the box-office continued in 1984 with films like Iddharu Dongalu, Bangaaru Kaapuram, Mukyamanthri and the lavishly made Kanchukaagada. This high profile movie opened splendidly and illustrated Krishna's box-office prowess by collecting Eighty Two Lakh Rupees in its first week. The Superstar ended the year on a high note with his last film for the year Dongalu Baabooy Dongalu, running for 100 days run in a single theater in Vijayawada.
Krishna's career was at its pinnacle in 1985. He acted in swash buckling hits like Agniparvatham, Palnati Simham, Vajrayudham in this year. Krishna's fantastic portrayal of the larger than life characters created by the writer duo Paruchuri Brothers helped these films have spectacular runs at the box-office. In fact, his performances in these roles were so graceful and his histrionics so natural that fans across the state either started or renamed some of their associations/fan clubs on the characters names. He also acted in other hit films Suryachandra,Pacchani Kapuram and Mahasangramam with his peer Sobhan Babu. Krishna started 1986 on a low key as audience turned down both his early releases Krishnagaaradi and Brahmasthram. But he bounced bank with his maiden directorial venture Simhaasanam. Made with a budget of about four crore rupees in two languages and released on a grand-scale in more than 150 theaters in A.P. alone, Simhaasanam collected One and half crore rupees in its first week and completed its direct hundred days run in six major cities in the state.
Khaidhi Rudrayya was another smash musical hit in his career and the film created several records at the box-office. The Superstar continued his slugfest against his political beliefs by satirizing some of the policies of Telugu Desam Party in his home production Naa Pilupee Prabhanjanam. Disgruntled supporters and leaders of this regional Party protested against screening of this film in several places. But their ruckuses, ironically, generated more publicity for it and helped the film succeed. Though Krishna starred in the record breaking Muddayi, and in other hits like Dongodocchaadu and Thandri Kodukula Challenge, 1987 was, by and large, a disappointing year in his career as some of his highly expected movies like Sardar Krishnama Naidu, Viswanatha Nayakudu, Maa Voori Magaadu and Makutamleeni Mahaaraaju fared dismally. Despite these professional setbacks, Krishna would still cherish the year because his elder son Ramesh Babu debuted as a full fledged actor with Samraat on October 2. 1988 was another mediocre year in his professional life because only four Kaliyuga Karnudu, Aswaddhama, Rowdy No 1 and & Mugguru Kodukulu of his ten releases had some kind of impact at the box-office. The next year, however, was a very gratifying one for the Superstar because he not only acted in successful films like Koduku Diddina Kapuram, Saahasamee Naa Oopiri, Gudachaari 117 and Goondaarajyam (collected approximately 74 Lakh rupees in its first week) but also for getting elected to the lower house of the Parliament from Eluru (W.G.) in the general elections held in 1989.
1990 – present
The years 1990–1992 can be termed as the darkest period in his life because nothing went right for him during this period. None of his films, barring Nagaasthram, fared well at the box-office and the actor took his longest break from work after Raktha Tharpanam, his last directorial venture in Telugu, tanked at the marquee. Ramesh's failure to capitalize on his blockbuster Bazaar Rowdy would have presumably upset him further during those unsettling times.
In 1993, he came back strongly with the unexpected super success of Pacchani Samsaaram. But it was Vaaraasudu, his second release in the year, which made him the cynosure of the film fraternity again. The super-hit film, in which Krishna played a supporting role after a long time, however, incurred the wrath of his fans as it contained some scenes, which they thought, deprecated his image. In fact, the dissent was so great that the film-makers had to reach out to them through the print media requesting them to patronize the movie after chopping of those scenes and adding an action episode on him. But it was the film Number 1, which was another important turning point in his career as it helped him to cross-over to a new segment of audience. Released amidst tight competition during the festive season in January 1994, the film featured Krishna wearing flashy outfits and dancing with verve and energy. Audience, who were inundated with the lengthy dialogues in his movies, welcomed this image makeover and gave two-thumbs up for it. The film went on to become a phenomenal success and paradoxically, several producers requested him to appear in a song to help their film's cause. Amma Dongaa! (1995) was another thumping success in his career and the actor, instead of treading carefully to consolidate his re-gained stardom, went on a signing binge again while others were drastically reducing the number of films they acted to maximize revenues for each of their films. A string of flops followed Superstar Krishna and though Krishna became the fastest to reach the 300 films milestone (in a lead role), he was no longer a box-office phenomenon. This time, time was also not on his side to increase his personal stock as he was in his early fifties by then. The aged war-horse has since then been doing supporting roles in several insignificant films.
Krishna also directed the Bollywood Film called "Ishq Hai Tumse" produced by Padmalaya Telefilms, starring Dino Morea and Bipasa Basu in lead roles which is the remake of the Telugu film "Sampangi" in the year 2004.